Seattle Bank in our Community
At Seattle Bank, we believe that in order to be a valid part of the fabric of the community, we must work to improve the quality of life of our neighbors right here in the Puget Sound. We recognize the immeasurable value of the human resources at our company, and cultivate a culture of community responsibility in our staff - many of whom volunteer many hours of their own time. We also take very seriously the power we have to establish and grow partnerships to address our community's greatest needs, and work closely with area non-profits to further their objectives.
January 2014: 2013 Best All-Around Business Award
Congratulations to our Wallingford Community Financial Center (CFC) for receiving the Wallingford Chamber "2013 Best All-Around Business Award." Seattle Bank's Wallingford Community Financial Center was given this award for their outstanding involvement in the community and due in large part to the excellent efforts of Wallingford Community Banker Debbi Larson, who is currently the Wallingford Chamber president.
This is the fourth consecutive year that Seattle Bank has received an award from the Wallingford Chamber of Commerce. We are proud to be a part of the Wallingford community!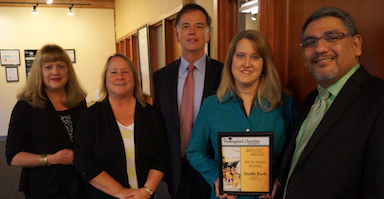 September 2013: YWCA Closet Treasures Clothes Drive
This month, we participated in the YWCA Closet Treasures clothing drive, gathering name-brand clothing donations for a special sale to support the YWCA's Dress for Success program. Our staff donated more than 80 gently used items of clothing, as well as shoes, accessories, and jewelry. Click here for more information on the YWCA's 11th Annual Closet Treasures Sale – and mark your calendar to stop by and pick up great deals on designer and name-brand clothes! (And remember, your purchases help provide local underprivileged women with resources and work-appropriate clothing to help them return to the work force).
August 2013: Stuff the Bus School Supply Drive
For the third year in a row, we helped with the Stuff the Bus school supply drive for Communities in Schools Seattle. We donated boxes and boxes of school supplies for children in need in the Seattle Area – and held a supply drive in our Community Financial Centers to gather even more donations from the community. Thank you, everyone, for your donations!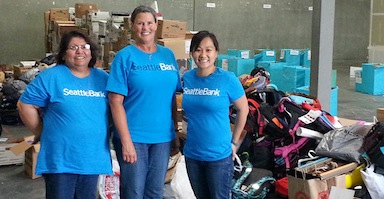 July 6: Wallingford Family Parade and Fesitval
For over 60 years Wallingford has played host to the longest running of all Seafair Parade, known as the Wallingford Kiddie Parade. Families come from far and near to watch, participate in, and enjoy this traditional event. This year, we were not only a sponsor of the parade, but our own Debbi Larson organized the parade in her role as president of the Wallingford Chamber of Commerce! We were very proud to be part of such a great community event.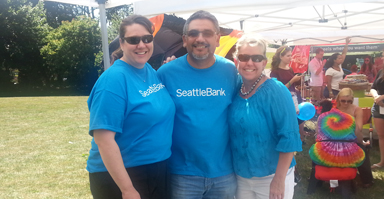 Our Debbie Balovich (Belltown Community Financial Center), Frank Rizo (Wallingford Community Financial Center), and Shar Bonnville (Corporate Office) volunteering at the parade.
July 2012 - present: Jeans for a Cause Day
The first Friday of every month, our staff chips in to help the community by donating $10 to wear jeans that day. The money from this and our snack sales (instead of a vending machine, we have snacks that can be 'purchased' by a one dollar donation) is pooled and donated to different charities or non-profits. In the first half or 2013, we helped the American Cancer Society, Family Works, Juvenile Diabetes Research Foundation, Northwest Harvest, and the Northwest Parkinson's Foundation! So, if you see someone from Seattle Bank wearing jeans on a Friday, take a moment to thank them for being a great community citizen.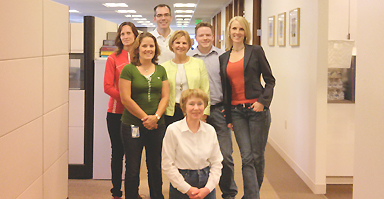 From left to right, Cheryl, Jayme, Alan, Jeannie, Anne, Nathan, and Katie, proudly showing off their Friday jeans.
June 19: Dress for Success Professional Women's Group Banking Seminar
Jeannie Ciesynski, our Director of Community Banking, taught a class on banking skills and the importance of saving to the Dress for Success Professional Women's Group – a support group for low income women working to improve their careers and lives. If you would like Jeannie to come visit your group to talk about good banking skills (or for more information on this event) please email her at jciesynski@seattlebank.com.
June 8-9, 2013: Relay for Life, for the American Cancer Society
A team of hardy employees walked literally all night to raise money for cancer research. Our team of 12 took turns during the night to keep the baton going - all-told we raised $2,278 for the cause.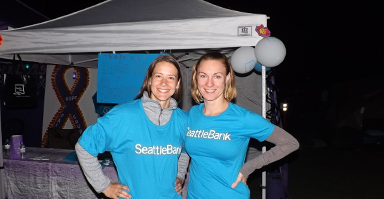 Annora and Suzanne in front of our tent at the Relay for Life - about 11:30 PM. The night was still young!
June 4, 2013: Elder Financial Abuse Seminar, the Belletini, Bellevue
Our Bellevue Community Financial Center and Compliance teams partnered with Detective Richard Chinn, from the Bellevue Police Department, and the Senior Deputy Prosecuting Attorney Kathy Van Olst, from the King County Prosecutors' Office, to create an educational session designed to provide seniors with the information they need to prevent this type of abuse from happening to them. Elder abuse is a growing problem; over 3000 cases of abuse are reported to Adult Protective Services each year in Washington, and 75% of financial exploitation victims are over 60. Our goal is to give seniors the resources they need to prevent them from becoming another statistic. If you'd like us to hold an elder financial abuse seminar in your community center or facility, please give Jen Diaz a call at 206.568.7808. We'd love to help!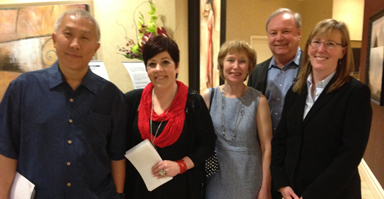 Our speakers, from left to right: Detective Richard Chinn, Our Jen Diaz, Anne Byrd, and Gary Carlson, and Senior Deputy Prosecuting Attorney Kathy Van Olst.
May 19, 2013: Beat the Bridge to Beat Diabetes
Our Seattle Bank/Seattle Mortgage team ran and walked in the Beat the Bridge fundraiser, supporting the Juvenile Diabetes Research Foundation– for the 20th year in a row! Our team (44 strong!) raised several thousand dollars for the cause. Good work, guys!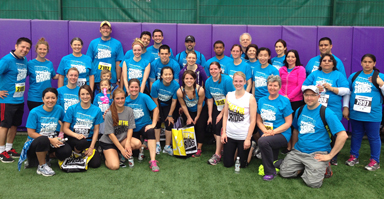 April 2, 2013: Banker's Care Spring Food Drive
A team from Seattle Bank joined the Washington Bankers Association, Northwest Harvest, and KOMO Newsradio's Morning Show co-anchor, Manda Factor, in the outdoor plaza at Westlake Center to collect non-perishable food and monetary donations as part of the Bankers Care Spring Food Drive. We also donated a check for $3000 to the organization. Overall, the drive raised enough to provide more than 170,000 meals to hungry people through the region!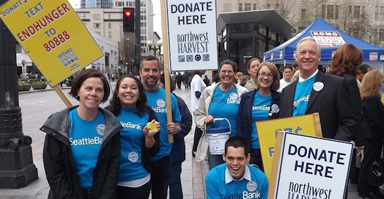 Our volunteer team before setting out to raise donations.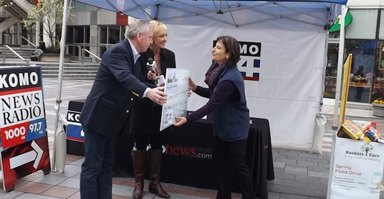 Our CEO, Pat Patrick, donating the check to Northwest Harvest.
December 19, 2012: Atlantic Street Holiday Toy Store
The toy Store is a wonderful program that allows low income families to pick out donated toys, books, games, and clothing for their children for Christmas - over 300 families each year! We helped out at the toy store, helping guide families through, and gift wrapping. This was a particularly special event for us, since Seattle Bank's President and CEO, Pat Patrick, is a long-time fervent supporter of the Atlantic Street Center, with deep personal ties to the organization.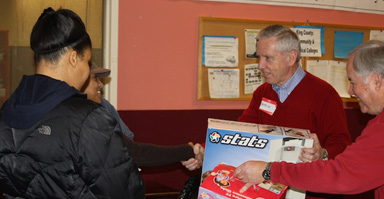 Pat Patrick greeting shoppers at the Holiday Toy Store.
December 7, 2012: Treehouse for kids
During the holiday months, we held a toy drive for Treehouse, a wonderful organization that helps foster kids have a better life and future. A few of us took a little field trip to deliver the toys, and got to tour Treehouse's warehouse, a free store where foster kids can 'shop' for new and like-new clothing, books, and toys – to help them feel good and fit in better. We were totally impressed and inspired. This is a great organization!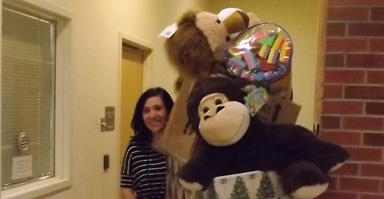 The HUGE stack of toys we collected to donate to Treehouse for kids!
October 4th, 2012: Union Gospel Mission with Sounders FC
On October 4th, a team from Seattle Bank volunteered alongside Sounders FC players and fans as part of our United We Serve program. This time we helping serve and (clean up) Union Gospel Mission's evening meal service.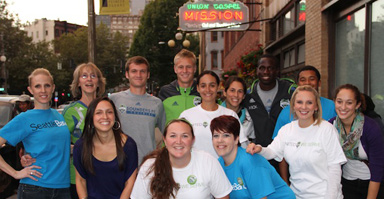 August 21, 2012: Stuff the Bus
OnSeattle Bank volunteers rode the big yellow school bus to collect all the donated school supplies for the 2012 Stuff the Bus school supply drive. The drive collects supplies for needy children at more than 40 local schools. In addition to our great volunteers, our staff donated 19 backpacks, 48 notebooks, 24 pairs of scissors, 47 packs of ballpoint pens, 45 packs of crayons, 20 pencil sharpeners, 20 folders, 41 packs of pencils, 16 packs of glue sticks, 14 packs of highlighters, 5 binders, 30 packs or notebook paper, and a whole bunch more. Thanks, everyone!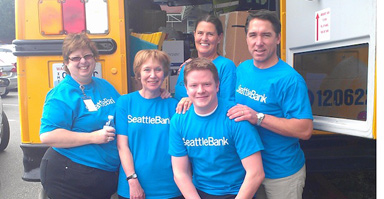 Our bus stuffers, from the left: Nancy, Anne, Nathan, Sharon, and Brian.
August 12, 2012: 'Over the Edge' for Special Olympics
Our Chief Lending Officer Dan Dierdorff rappelled off the 40-story Rainier Tower to raise money for the Special Olympics. This year, more than $220,000 was raised! Dan participates in the 'Over the Edge' event each year. Well, we're impressed. Thanks for doing this for such a great cause, Dan!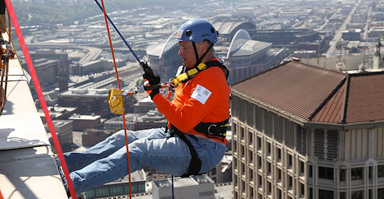 July 29th: Torchlight Parade for Community in Schools Seattle
Our Chief Internal Auditor Sharleen Bonnville and her husband Rob marched in the Seattle Torchlight Parade to help promote the Stuff the Bus schools supply drive. We hear they made a big noise to support this great effort from Communities in Schools of Seattle. Thank you, Sharleen and Rob!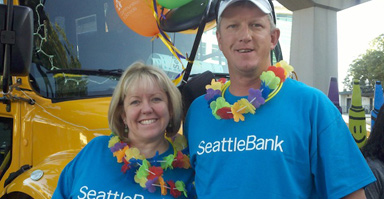 June 27, 2012: Rebuilding Together Seattle
Volunteers from Seattle Bank joined with Wilcox Construction for a Rebuilding Together Seattle work party to help fix up an adult group home in the Shorewood area. Thanks, guys!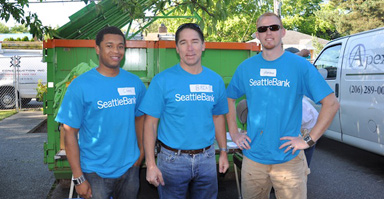 May 14, 2012: Serving at Hopelink Kirkland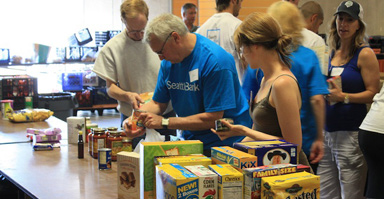 Employees from Seattle Bank, Sounders FC players, and fan volunteers work to sort donated food at Hopelink Kirkland, on May 14, 2012. In the blue shirt is Dan Dierdorff, our Chief Lending Officer.
June 9, 2012: Crohn's and Colitis Foundation of America—NW Chapter, Take Steps Be Heard
For the first time this year, a team from Seattle Bank and Seattle Mortgage Company participated in the Take Steps Be Heard fundraiser walk to raise money for the northwest chapter of the Crohn's and Colitis Foundation of America. The CCFA raises funds for Crohn's and Colitis research and summer camps for young patients. Our team was the fifth highest fundraising team, helping the CCFA exceed their goal for this event!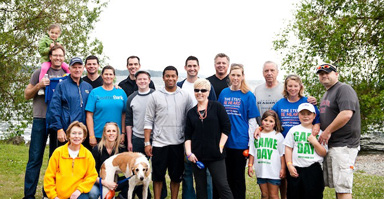 Our Take Steps Be Heard fundraising team after the walk on Saturday, June 9th, 2012.
May 20, 2012: Juvenile Diabetes Research Foundation—NW Chapter, Beat the Bridge Run
For 18 years in a row, Seattle Bank and Seattle Mortgage Company employees have run in the Beat the Bridge fundraiser run, a local tradition since 1994. Since that time, we have raised nearly $90,000 to support juvenile diabetes research.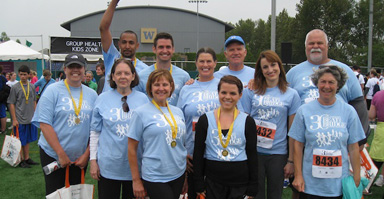 Bank and mortgage employees after the run at this year's Beat the Bridge event. Jeannie Ciesynski, our Director of Community Banking, is front left.
Stuff the Bus
Before each school year, the Seattle Seahawks and Communities in Schools, Seattle (CISS) hold a school supply drive for needy students so that they can be better prepared for the upcoming school year. Each year we participate, offering our banking centers as donation drop-off points, and collecting school supplies. In past years, this drive has collected enough supplies to stuff two buses - which allows CISS to donate to 32 schools, and up to 9,000 students! This year we are collecting supplies from June 18th through August 21st . If you'd like to donate, click here for a list of needed supplies, and drop off your donations at one of your Seattle Bank Community Financial Centers!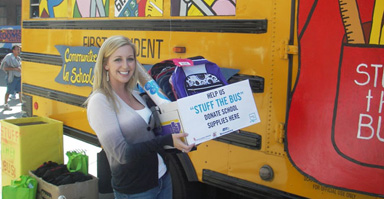 Employee Jessica Reed helps "stuff the bus" in the 2010 school supply drive at the stadium.
Financial Literacy Education
Representatives from Seattle Bank are available to teach financial literacy courses. For example, in years past we have taught women who are enrolled in the long-term program at Union Gospel Mission how to budget their money and help them establish savings accounts. Similar programs can be arranged by contacting Jean Ciesynski at jciesynski@seattlebank.com or 206-273-7359.
Bank on Seattle—King County
Bank on Seattle—King County is a community wide partnership between the area's financial institutions and local government to ensure access for everyone to basic financial services, without the high fees found at check-cashing companies or payday lenders. For more information contact us at 206.568.7800 or mybank@seattlebank.com.