View all posts
Seattle Bank and Visit Seattle Announce Community Partnership Program
03/24/2022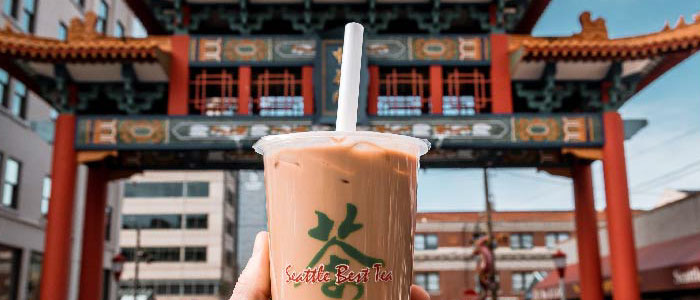 March 24, 2022 – Visit Seattle and Seattle Bank today announced a partnership to bring tourism revenue to Seattle's small businesses and diverse communities. A first collaboration between the organizations, the Community Partnership Program will provide support to 20 locally owned businesses – including restaurants, cafes and shops – within Seattle's vibrant International District and Central District neighborhoods.
Seattle Bank and Visit Seattle partnered with Intentionalist, the Central Area Collaborative and the Chinatown-International District Business Improvement Area (CIDBIA) to identify the selected businesses -- focusing on establishments owned by women, people of color and LGBTQ+ community members in the easily accessible Central District and International District neighborhoods.
Through the partnership, the 20 businesses will receive waived membership dues (funded by Seattle Bank) to join Visit Seattle's partnership network. As members, each business will receive direct promotional support through Visit Seattle's marketing channels (website, social, publications), access to leads and referrals from Visit Seattle to encourage leisure visitors, business travelers and conference and meeting attendees to dine and shop at their locations, and focused B2B strategies to expand business opportunities within the regional hospitality and tourism industry. In addition, Seattle Bank will offer complimentary financial consulting services to each participating business.
"As we welcome back visitors to Seattle, we must think about how we can effectively invest in and increase access to the incredible, diverse businesses and neighborhoods that are fostering our economic growth and cultural vibrancy," said Rob Leslie, director of partnership and destination services for Visit Seattle. "We are proud to partner with Seattle Bank to increase access and resources for these businesses to expand their presence and visibility with our visitors."
Seattle Bank – a boutique bank focused on the needs of individuals, families, businesses and community organizations in the Pacific Northwest – developed the business support model in partnership with Visit Seattle.
"Seattle's small business owners are the heart of our city and our path to recovery depends on giving them the right resources to thrive," said Mary Grace Roske, senior vice president of marketing communications and community relations for Seattle Bank. "It's something we should all have a stake in. That's why we built this cohort of mission-minded organizations to invest back in a stronger Seattle. The model we've developed with Visit Seattle will give our vibrant businesses the foundation to sustain and grow through this period of recovery and beyond."
Intentionalist, an online directory and marketplace that makes it easy to find and support local small businesses and the diverse people behind them, will also support the businesses by hosting tabs – supported by Seattle Bank and Visit Seattle - of $250 per business. Visitors will be able enjoy a free taste of the business by putting a treat on the tab until the limit is met. Intentionalist will share tab information on Instagram, Facebook, Twitter and Intentionalist.com.
"As travel opens back up, it's important for visitors to think about how being intentional about where they eat, drink, and shop can enrich their experience and make a positive impact on the city they're visiting," said Laura Clise, founder and CEO of Intentionalist. "The 20 businesses selected offer travelers an opportunity to explore the diverse cultural fabric of our neighborhoods."
"This program gives us an opportunity to share our story with a broader audience – to welcome more people to experience the true origins of coffee and the rich history of coffee in Africa," said Efrem Fesaha, CEO and founder of Boon Boona Coffee, an African inspired coffee shop that prioritizes community education and engagement. "Visitors may know Seattle for its coffee culture, but there's so much more to uncover and learn about – much like there is with Seattle's entire food scene. We're excited that Visit Seattle and Seattle Bank are putting a spotlight on our businesses and creating opportunities for visitors to go deeper into exploring our city's beautiful and diverse neighborhoods."
"We're so grateful to be part of the Community Partnership Program," said Diane Ung, co-owner of Phnom Penh Noodle House, a Cambodian restaurant in the International District. "It's giving us the opportunity to introduce our cuisine to those who are traveling from afar, and neighbors we have yet to meet. The program allows us to reach a whole new segment of guests. Thank you to Visit Seattle, Seattle Bank, and Intentionalist for prioritizing and advocating for small businesses."
The full list of recipients includes:
Boon Boona Coffee: Exclusively African coffee roaster that's committed to sharing the unique coffee and coffee traditions of the region
Carmelo's Tacos: Family owned and operated Mexico City street-style taqueria
Dim Sum King: Chinese restaurant known for its modern interpretation of classic dishes and its insistence on only using high quality fresh ingredients
Fat's Chicken & Waffles: Southern style, New Orleans-influenced restaurant focusing on authentic & natural ingredients in the heart of the Central District
Fuji Bakery: Japanese artisan bakery dedicated to providing its customers with the highest quality in ingredients, taste and presentation
Hood Famous Cafe and Bar: Filipino bakery and cafe focused on desserts, baked goods and light meryenda snacks, alongside a single origin Asian-Pacific coffee program
Jackson's Catfish Corner: New seafood spot opened by Terrell Jackson, grandchild of Woodrow and Rosemary Jackson who opened "Seattle's Original" Catfish Corner
Kobo Shop & Gallery: Translated from Japanese as "artist's workspace," Kobo is an artisan gallery featuring Japanese and Northwest fine crafts
Maneki Restaurant: Landmark Japanese spot dating back to 1904 with tatami rooms, a bar and classic fare including sushi
Phnom Penh Noodle House: Longtime favorite for traditional Cambodian noodle soups, grilled meats and spicy salads
Pho Bac Sup Shop: A Seattle staple for pho with locations across the city
QueenCare: A health and beauty shop with products designed to best serve our skin while utilizing aromatherapy to heal and uplift our mood. A portion of proceeds benefit youth programming in the Seattle/King County area
Raised Doughnuts: Airy modern cafe serving donut classics and "raised" specials with an array of flavors and toppings
Seattle Best Tea: Informal tea gathering and hidden oolong school
Seattle Fish Guys: A favorite shop bringing fresh quality seafood to local communities
Shikorina Pastries: Homemade pastry shop with ingredients that are ethically sourced, and are fair-trade, organic; and/or local
Simply Soulful: Shop offering delightful pies and food that hold true to that simple, full of flavor soul food
Tai Tung Restaurant: Landmark serving classic cross-regional Chinese fare for over 75 years with table & counter seating
Tamarind Tree: Family-owned restaurant for inventive Vietnamese cuisine & cocktails in an elegant, soothing setting
The Cura Co.:A one-stop-shop to wear and live your values, beautifully
All businesses are now live on Visit Seattle's partnership directory and the Intentionalist.
About Visit Seattle
Visit Seattle has served as the official destination marketing organization (DMO) for Seattle and King County for more than 50 years. A 501(c)(6) organization, Visit Seattle enhances the economic prosperity of the region through global destination branding along with competitive programs and campaigns in leisure travel marketing, convention sales and overseas tourism development. Visit visitseattle.org.
About Seattle Bank
Seattle Bank is a locally owned and managed financial institution that provides private banking, specialty mortgage and commercial banking services. We deliver a modern banking experience with tailored services and leading-edge technology, demonstrating the ease, satisfaction and peace of mind that exceptional banking provides Leveraging our best-in-class core banking technology. Seattle Bank also provides banking-as-a-service (BaaS) to enable fintechs, marketplaces and brands to provide financial solutions within their customer experience. Information about Seattle Bank, its services, financial strength and community impact is available at www.seattlebank.com.
About Intentionalist
At Intentionalist, we believe that where we spend our money matters. Our online platform connects consumers to local businesses and the diverse people behind them. Through our directory, guides, and events, we make it easier to #SpendLikeItMatters and support small businesses owned by women, people of color, veterans, families, members of the LGBTQ community, and differently abled people. We build more vibrant, inclusive communities by helping consumers be more intentional about where they eat, drink, and shop. Intentionalist is a social enterprise based in Seattle, WA. To support local businesses in your community visit www.intentionalist.com.