View all posts
New Banking Partnership Between Seattle Bank and Guidant Financial Streamlines Rollovers for Business Startups
12/06/2022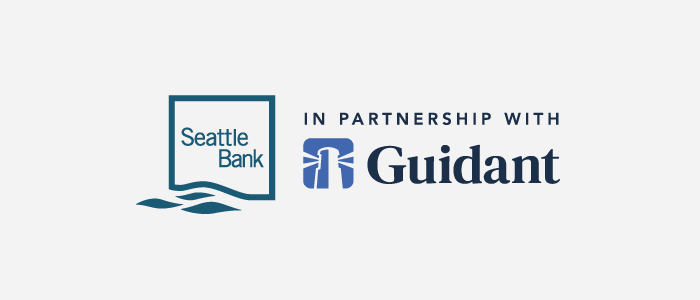 A new banking partnership between Guidant Financial and Seattle Bank is simplifying Rollovers for Business Startups (ROBS), streamlining the process for people to invest their retirement assets — primarily 401(k) investments — into a small business.
A growing funding source for entrepreneurs, ROBS allows individuals to invest up to 100 percent of their retirement assets into a small business or franchise without taking a taxable distribution or loan. The transaction requires that fund transfers adhere to both banking and Internal Revenue Service (IRS) regulations. This can be a complicated process, especially when working with financial institutions unfamiliar with this financing strategy.
Seattle Bank developed a fully digital solution, allowing Guidant's clients to open a new 401(k) plan checking account to accept the rollover funds before transferring to a C Corporation created on behalf of the client and then finally deposited in the new business's account. This online process makes the funds transfer and required ongoing reporting easier for everyone — the client, Guidant Financial, and the 401(k) administrator.
"This collaboration showcases how Seattle Bank's partner banking services can solve important problems for our partners and their customers, making transactions easier while improving transparency, security and controls," said Josh Williams, executive vice president and head of partnerships. "We've enabled Guidant to operate more efficiently and scale, which will translate into increased investment in the small businesses that comprise such a critical part of our economy."
"Guidant Financial structures more ROBS arrangements than any other provider in the U.S. We've helped over 30,000 small businesses launch with ROBS," said Business Growth Officer Katie Burckhardt at Guidant Financial. "Now, our partnership with Seattle Bank will provide ROBS clients with a seamless digital method to help simplify the ROBS process."
This collaboration with Guidant Financial illustrates Seattle Bank's partner banking capabilities which enable fintechs, marketplaces and brands to provide financial solutions within their brand experience, bringing banking directly to customers through seamless, integrated transactions. Whether offering a borrowing solution into a retail brand's digital channel or providing banking-as-a-service to a fintech, Seattle Bank orchestrates the strategic blend of business, technology, and compliance to create successful, sustainable partner banking collaborations.
About Guidant Financial
Guidant Financial is in the business of empowering aspiring and current small business owners. Since launching in 2003, Guidant has become an industry leader in innovative small business funding — and now offers a suite of services to make small business owners' lives easier. Guidant has helped over 30,000 small business owners make their dreams come true with 401(k) business financing and continues to support businesses throughout the lifetime of their business.
About Seattle Bank
Ranked in the top ten percent of banks nationally for return on assets and efficiency, Seattle Bank is a locally owned and managed financial institution that provides personal, business and partner banking services. Seattle Bank is a wholly owned subsidiary of Seattle Bancshares, Inc., a privately held bank holding company. Information about Seattle Bank, its services, financial strength, and community impact is available at seattlebank.com. Member FDIC.