View all posts
Seattle Bank Partners with JUDI.AI to Simplify the Lending Process for Small Businesses
03/29/2023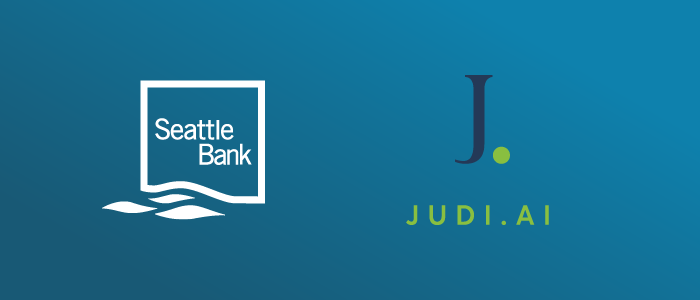 Seattle, WA – March 29, 2023 – Seattle Bank is partnering with JUDI.AI, a software-as-a-service (SaaS) company that leverages artificial intelligence (AI) and open banking technology to provide a small business lending platform for banks, credit unions, and other lenders. With JUDI.AI, Seattle Bank will offer small business borrowers a simplified loan application and approval process that now takes minutes instead of a week or more.
"Loan applications can be a daunting process, but integrating JUDI's AI-enabled platform will create invaluable efficiencies for our small business borrowers," said Josh Williams, EVP, Chief Banking Officer and Head of Partnerships at Seattle Bank. "This mutually beneficial partnership unlocks the ability for Seattle Bank to lend to small businesses quickly and seamlessly. It also gives us the opportunity to extend JUDI.AI technology and access to brands and marketplaces that lend to small businesses nationally."
Based in Vancouver, B.C., JUDI.AI is focused on helping community-based lenders reduce the friction that normally comes with small business lending. The platform streamlines a loan application, decisioning, and documentation process that can typically take seven days or more to less than 10 minutes. JUDI.AI's cash flow-based approach to underwriting equips lenders with a real-time view into the financial health of small businesses—offering Seattle Bank a faster and more effective way to evaluate the creditworthiness of small business borrowers.
"We knew we wanted to partner with Seattle Bank from our first conversation, after hearing how aligned our organizations are on innovating to serve customers digitally," said Gord Baizley, CEO of JUDI.AI. "Seattle Bank's forward-thinking approach to tech integration is a great match for JUDI.AI, where we use a blend of technology and credit science to reinvent what is often a highly manual and time-consuming process lending to small businesses."
Collaborating with JUDI.AI illustrates the benefits of Seattle Bank's open API, cloud-based core technology platform which allows it to easily integrate new and robust digital solutions to deliver a better banking experience. This highly configurable and scalable tech stack also supports Seattle Bank's partner banking services that enable fintechs, marketplaces and brands to embed banking transactions into their customer online experience.
For more information on Seattle Bank and its partner banking solutions, visit www.seattlebank.com.
About JUDI.AI
Small businesses are the backbone of our local communities, but 40-50% of small businesses rank access to capital as their top challenge. Although the economics of small business lending have historically been untenable, mission and profit are no longer mutually exclusive in the digital world. Born and incubated inside a fintech lender, JUDI.AI enables community-based financial institutions to provide a fintech-like experience for small business loans. Combining the speed of consumer lending with the right amount of rigor from commercial lending, our AI-enabled platform uses a unique cash flow-based underwriting approach to eliminate the friction typically associated with small business lending. JUDI.AI pledges 1% of our equity, revenue, time and product to charities of our customers' choice. To learn more, visit www.judi.ai.
About Seattle Bank
Seattle Bank is a locally owned, digitally driven financial institution that provides personal, business and partner banking services and CD Valet. Our experienced team and open API, cloud-based core technology platform deliver a boutique bank experience for clients with interwoven personal and business financial needs. Our highly configurable and scalable tech stack also supports partner banking that enables companies to embed banking transactions into their customer online experience. Seattle Bank's most recent innovation is CD Valet, a new national service to help savers find the most relevant, unbiased standard and promotional certificate of deposit (CD) rates from local and national financial institutions. Seattle Bank is a wholly owned subsidiary of Seattle Bancshares, Inc., a privately held bank holding company. Visit Seattle Bank for more information.
Contact: [email protected]