View all posts
Seattle Bank Expands CD Valet Nationwide, Highlighting Unbiased Certificate of Deposit Rates From More Than 2,400 Banks and Credit Unions
04/20/2023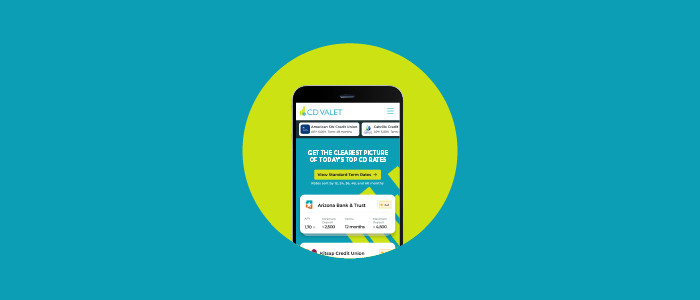 Seattle, WA – April 20, 2023 – CD Valet, a consumer-focused website highlighting the nation's most relevant and competitive certificate of deposit (CD) rates, now features more than 17,000 rates from banks and credit unions in all 50 states. Benefiting from higher interest rates and the advantages of federal deposit insurance, CDs are an attractive choice during economic uncertainty, providing a guaranteed rate of return and keeping the principal amount safe. With CD Valet, consumers across the U.S. now have an alternative to biased, ad-driven websites with a straightforward and full picture of CD rates at local and national financial institutions.
On April 19, for example, CD Valet included more than 250 CDs with rates of 5 percent or greater, whereas the frequently used Bankrate.com published just 18. With CD Valet including hundreds of additional financial institutions, consumers can find a selection of higher rates, more rates, and local rates.
Inflation and rising interest rates in the past year have led more people to focus on long-term savings options. Forty percent of U.S. adults are more likely to consider long-term savings today than a year ago, according to a new survey conducted by CD Valet in partnership with YouGov. More than half of adults (64%) save for a specific purpose, with building up an emergency fund (53%) as the most common reason. Yet many consumers are not aware of all the options available to them, what CD returns are, or that the principal invested in a CD is not at risk (up to federal deposit insurance limits). For example, thirty-nine percent didn't know the approximate interest rate on a 12-month CD, or how it compares to other investments.
"It's clear that there is a strong appetite right now for low-risk, high-rate savings options, so there couldn't be a better time to have CD Valet sharing rates from local banks and credit unions in all 50 states, as well as the national and internet banks," said Howie Wu, EVP, Head of Product and General Manager of CD Valet at Seattle Bank. "The survey reveals that public knowledge about CDs is lacking, likely since low interest rates for the past 15 years have diminished CDs' popularity until now. We're eager to educate more people on the benefits of CDs and help them find rates with better returns through CD Valet, as well as create a new channel for community banks and credit unions to raise more deposits."
CD Valet is an easy-to-use website that delivers the most comprehensive and unbiased CD rates in a wide range of terms from community banks and credit unions nationwide. When it comes to CD rate shopping on other comparison websites, consumers are often not made aware of the breadth of options available to them because they generally see only paid advertisements. Community banks and credit unions often offer the highest rates, but the substantial marketing resources of rate comparison websites dominate CD advertising. This prevents consumers from seeing a clear picture of all available rates —including the 55% of CD holders surveyed who proactively investigate new CD rates before their current CD reaches maturity.
"It's time for consumers to become active savers as interest rates continue to rise. CD Valet by Seattle Bank provides a long overdue unbiased comparison tool that allows serious savers to compare nationwide rates instantly," said Jim Marous, co-publisher of The Financial Brand and host of the Banking Transformed podcast.
CD Valet was first launched in November 2022, focusing on five western states. With the expansion to all 50 states, CD Valet has launched an advertising campaign to reach established CD customers and introduce CDs to a new generation of savers. The campaign includes partnerships with CNBC, The Golf Channel, Money with Katie through The Morning Brew, and additional platforms to create awareness and visibility amongst consumers eager to benefit from the positive impact of rising interest rates.
Methodology
Seattle Bank commissioned YouGov to survey 2,426 U.S. adults aged 18 and up, across an even mix of gender, age and income, to explore their knowledge and interest on the topic of long-term savings investments and certificates of deposit.
About CD Valet
CD Valet is an easy-to-use website that delivers the most relevant and unbiased CD rates for standard (one- to five-year) and promotional terms from local and national financial institutions. Developed by Seattle Bank to serve consumers the "straight up rates," CD Valet offers daily rate updates and a "Promos" section spotlighting exceptional CD offers with unique maturities, rate-adjustment options and more. Unlike other CD rate comparison sites, CD Valet shows the most competitive rates without bias as the website does not use a "pay to play" approach. CD Valet does not accept promotional dollars and provides this service to the consumer at no charge. CD Valet is a service of Seattle Bank, a wholly owned subsidiary of Seattle Bancshares, Inc. Visit Seattle Bank for more information.
About Seattle Bank
Seattle Bank is a locally owned, digitally driven financial institution that provides personal, business and partner banking services and CD Valet. Our experienced team and open API, cloud-based core technology platform deliver a boutique bank experience for clients with interwoven personal and business financial needs. Our highly configurable and scalable tech stack also supports partner banking that enables companies to embed banking transactions into their customer online experience. Seattle Bank's most recent innovation is CD Valet, a new national service to help savers find the most relevant, unbiased standard and promotional certificate of deposit (CD) rates. Seattle Bank is a wholly owned subsidiary of Seattle Bancshares, Inc., a privately held bank holding company. Visit Seattle Bank for more information.
Contact: [email protected]