View all posts
CD Valet Introduces Digital Account Opening, Allowing Financial Institutions to Convert National Visibility into New Customers
06/13/2023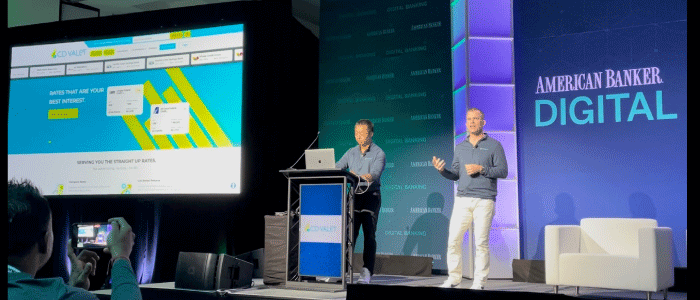 Seattle, WA – June 13, 2023 – CD Valet, a marketplace highlighting the nation's largest and most competitive selection of certificates of deposit (CDs), is now offering financial institutions lead generation services and a fast-to-market, pre-built account opening solution that integrates into most major core banking platforms. This new capability makes CD Valet the only marketplace offering consumers online CD account opening, creating a seamless experience not available on pay-to-play platforms.
"CD Valet already benefits community financial institutions by creating nationwide visibility for their CD offerings and this new evolution will make it even easier to raise retail deposits," said John Blizzard, founder of CD Valet and president and CEO of Seattle Bank. "Through CD Valet, financial institutions can now garner the most comprehensive market data and utilize new tools to help them quickly react in a rapidly changing market."
The launch comes at a time when increased competition for deposits is leading banks and credit unions to seek fresh approaches to acquire new client relationships and retain existing customers. With interest rates the highest in more than 15 years, consumers have more choice than ever to make meaningful and safe returns on their hard-earned funds. CD Valet research shows the number of CDs paying 5.00% APY* or higher has more than tripled in the last six weeks, making now the right time for financial institutions to activate new digital deposit acquisition strategies.
CD Valet tracks more than 19,000 individual CD offerings from over 2,500 financial institutions nationwide, delivering unbiased rates as well as the ability to convert qualified leads into new customers. CD Valet's account opening feature fully addresses compliance and risk management requirements and creates a modern customer experience with the capability to evolve with the latest innovations. There are three service levels that financial institutions can choose from to help meet their client acquisition and deposit generation goals:
Lead Generation: Financial institutions receive leads qualified to their market area or fields of membership, which they can convert using existing origination flows. No upfront technology integration is needed.
Lead Link: Consumers interested in opening a CD at a bank or credit union are routed or deep-linked into the institution's existing digital origination platform. This requires minimal technology integration.
Origination Solution: Financial institutions acquire a fast-to-market full digital origination experience with optional core integration and funding solution to support end-to-end digital CD account opening.
"After years of comfortable liquidity and near-zero interest rates, things have changed. For many bankers, it's the first time they've had to think about truly competing for deposits in an increasingly digital marketplace," added Howie Wu, General Manager of CD Valet and Head of Product at Seattle Bank. "If financial institutions are looking to drive time deposits as well as boost awareness of their CD offerings, CD Valet is a no-brainer solution. The consumer benefit is also indisputable, providing savers the opportunity to see the 'straight up rates'–free of bias–and lock in the best return on their savings."
Using its unparalleled nationwide data, CD Valet also offers a comprehensive data reporting package and intelligence tool that puts the best CD market information in the hands of financial institution decision makers. This reporting captures deep insights covering the competitive landscape for CDs across geographies and product types and provides rich data on consumer behavior in this more than trillion-dollar industry. These data and analytics will support financial institution decision-making in product design, pricing, asset/liability management and contingent funding planning.
To learn more about CD Valet and its services to help financial institutions acquire more time deposits, visit CD Valet at www.cdvalet.com.
More About CD Valet
CD Valet is an easy-to-use website that delivers the most relevant and unbiased CD rates for standard (one- to five-year) and promotional terms from local and national financial institutions. Developed by Seattle Bank to serve consumers the "straight up rates," CD Valet offers daily rate updates and a "Promos" section spotlighting exceptional CD offers with unique maturities, rate-adjustment options and more. Unlike other CD rate comparison sites, CD Valet shows the most competitive rates without bias as the website does not use a "pay to play" approach. CD Valet does not accept promotional dollars and provides this service to the consumer at no charge. CD Valet is a service of Seattle Bank, a wholly owned subsidiary of Seattle Bancshares, Inc.
Contact: [email protected]